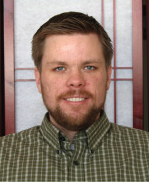 Jonathan Ferris LAc.,
Morning Light Acupuncture Acupuncture, Chinese Herbs, Massage, Qi Gong and I-Fit 150 instructor

I am a Licensed Acupuncturist, Chinese Herbalist, massage therapist, specializing in neuro-musculo-skeletal issues caused by auto, work or sports-related injuries. I use a combination of body work techniques in conjunction with acupuncture to treat both chronic and acute pain and injury. I have studied with some of the best acupuncturist and body workers in California, Wisconsin and China. Along with therapeutic treatment I am a firm believer in providing encouragement and tools that clients can implement on their own to aid in the healing process. I will often proscribe stretching and strengthening exercises specifically targeting areas of needed improvement. I also teach 2 different classes that promote health and longevity; Golden Shield Qi Gong and I-Fit 150. These are two different approaches based on ancient Chinese health practices intended to cultivate high levels of health and longevity.
<!img src="images/spacer.gif" width="45" height="50" />